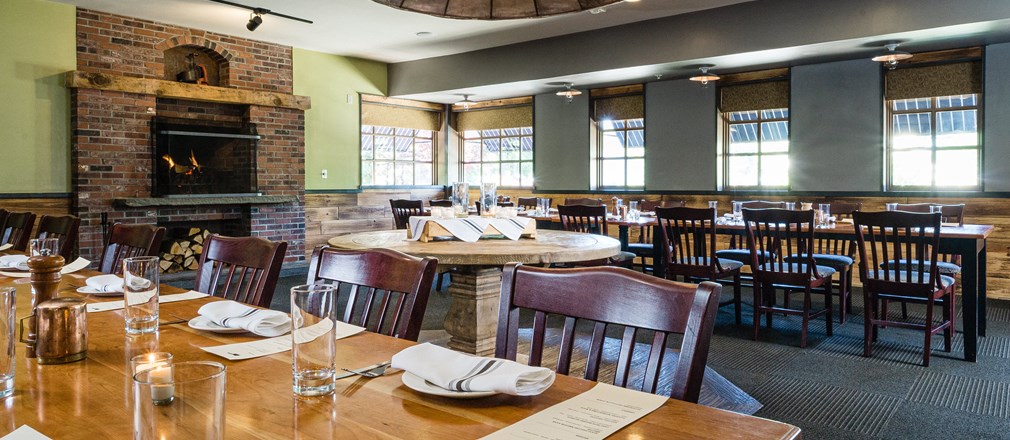 Come Celebrate with Us
Guild Tavern invites you to schedule your next special event in our Private Dining Room and enjoy an evening of farm-to-table cuisine in a warm and comfortable environment. Whether you're looking to host a special dinner with family, celebrate the holidays with friends, or do something a little different for your next corporate outing, our private dining room is a great space to bring people together.
Completely private space, separated from the main dining area
Brick-lined fireplace warms the room during the cooler months
Central to the space is an up-cycled lighting centerpiece designed by local artisan Conant Metal & Light
Wi-Fi is available and free to our guests
Sound system can be controlled separately to cater to guests' musical preferences
Plenty of on-site parking available
COCKTAIL PARTY
Reserve the Private Dining Room for a one-of-a-kind cocktail party. Choose a selection of Hors d'oeuvres featuring a wide variety of seasonal ingredients and local fare.
Accommodations for up to 75 guests.
DINNER
Choose from a more formal plated dinner or a more casual family style dinner. Each option includes a three course dinner with your choice of salad, entrees and seasonal house made desserts.
Accommodations for up to 50 guests.
CUSTOMIZE IT
We have variety of add-on packages so you can design your event exactly the way you want it. From a champagne toast to oyster station to house made charcuterie, there are plenty of options to fit your budget and preferences.